McLuhan's Theory and the Metaphorical Construction of the Body in the Life Sciences (PhD Thesis)
,
In this work I explore the interrelationships between metaphors, techno-cultural environments and theories in the life sciences. Essentially, the thesis of the Metaphoric Body deals with a multi-directional interactive metaphor. Technologies, according to the main theme of this thesis, are prostheses that are modeled on the body, and at the same time they redesign the body perceptually, conceptually, theoretically and physically (see fig. 0.1).
Human perception depends on grand-metaphorical frameworks: on the one hand, techno-cultural environments are created by metaphorical thinking; on the other hand, the same techno-cultural environments reshape the metaphorical perception. Science is an integral part of this process, both as an important factor in the development of techno-culture and as a field of knowledge which is influenced by techno-culture.
The thesis deals with the following topics: Marshall McLuhan, the body-machine, history of biology, metaphors and science, metaphors and technology.
The Reciprocal Interaction between the Two Domains of the
Body↔Machine Metaphor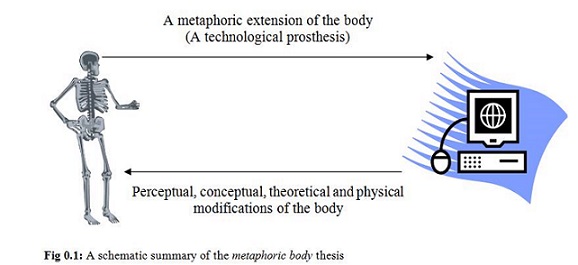 Table of Contents
Abstract: The Thesis of the Metaphoric Body
Part I: Metaphors, Technologies and the Human Body
1. Reciprocity, Experience and the Myth of Objectivity
2. Technological Extensions and their Impact on Society
3. The Electronic Prosthesis of the Nervous System and the Collapse of the Old Categories
Part II: The Transformation from the Organic Perception of the Body to the Mechanistic Perception
4. The Organic Perception and the Fate of the Four Aristotelian Causes
5. The Body↔Machine Metaphor during the First Mechanistic Phase
6. The Second Mechanistic Phase and the Development of the Industrialized Body
7. The Spell of Fragmentation: Pathology and Cell Theory
8. Transformism and the Design of the Body↔Machines
Preview